Please join us this month at the National Portrait Gallery for Portrait InSight, a program for visitors who are blind or have low vision. These 60-minute, verbally described tours tell stories about the Americans who have shaped the history and culture of this country through the museum's unique collection of portraits. This month, Portrait InSight takes place:
Thursday, September 19th at 2:00 pm, and
Saturday, September 21st at 12:00 noon
Both tours require registration by emailing jonesve@si.edu 48 hours in advance.
Thursday's tour will take place in the newly opened exhibition One Life: Marian Anderson, which examines the ways in which artists, concert promoters and others wielded Marian Anderson's iconic likeness as a powerful symbol in the pursuit of civil rights. The tour will visit several photographs of Anderson, as well as this vibrant paining from 1965:
Marian Anderson by Beauford Delaney, 1965, Oil on canvas
Saturday's tour will explore the theme of social activism and include a visit to the portrait of James Farmer, founder of the Congress of Racial Equality.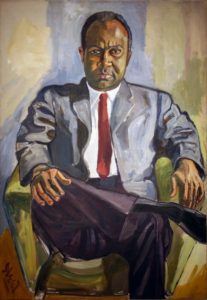 James Farmer by Alice Neel, 1964, Oil on Canvas
For more information visit http://npg.si.edu/learn/access-programs.
Location: The National Portrait Gallery is located between 7th and 9th Streets, and F and G Streets. The closest Metro station is Gallery Place/Chinatown. Please meet in the G Street lobby.
We look forward to welcoming you!
Vanessa Jones
Access Programs
Smithsonian
National Portrait Gallery
JonesVE@si.edu  |  202.633.8506