2021 Virtual Annual Gala
& Silent Auction
Saturday, March 13, 6:00-7:30 pm
SSA would like to thank everyone who helped make our Virtual Annual Gala on Saturday, March 13, a resounding success!  Funds raised by the gala will help us continue our work for Alexandria's older adults, including delivering meals and groceries to those who are homebound, matching socially isolated seniors with Friendly Visitors for casual conversations, training and materials for our corps of Senior Ambassadors, who are vital information sources within their communities, and virtual programming, like our popular workshops and speaker events, and much more!
Gala Highlights:
More than 100 people attended, with many getting in the spirit by wearing formal attire.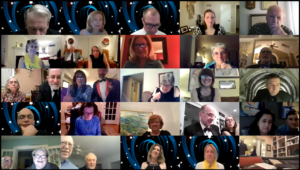 Corey Branham, general manager at the Westin Alexandria's Trademark restaurant, helps set the tone for the gala by demonstrating the proper way to mix a Carlyle Sour.
Honoree Eugene Steuerle discusses the importance of legacy giving
2021 Honoree The Honorable William Euille
2021 Honoree Barbara Anderson, Esq.
2021 Honoree Kate Garvey
Contests kept the action lively, as attendees competed for prizes in SSA trivia and best dressed contests.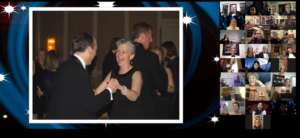 Remembering the fun times of galas past, and looking forward to returning in-person for 2022 (we hope)!
Please click here to see the terrific coverage on page 3 in the Gazette!
2021 Gala Sponsors
Platinum Sponsors
Alan & Barbara Anderson


H. Arthur Sauer

Gold Sponsors
Aarondale Retirement and Assisted Living
& Paul Spring Retirement Community
Caudron Megary Blackburn
Wealth Management Group
Everly-Wheatley Funerals and Cremation
The Goodhart Group
Goodwin House, Inc.
JBG Smith
KWC CPA
Gregg & Monica Murphy
Sunrise of Old Town
Thomas J. Fannon and Sons, Inc.

Silver Sponsors
AARP
Focus Data Solutions
Inova Health System
John Marshall Bank
Jane & Richard Marcus
The Hon. Del & Dr. F.J. Pepper
Reunions
Mark N. Roth
Silverado Alexandria Memory Care Community
Simpson Development Co.
Walsh, Colucci, Lubeley, & Walsh, P.C.
Deborah O. Wells
Bronze Sponsors
ACT for Alexandria
Alexandria Toyota
Alexandria Transit Company (DASH)
The Hon. Willie Bailey
Virginia & Richard Banchoff
Dr. Rina Bansal
Janet Barnett
Susan & Carl Behnke
The Hon. Elizabeth Bennett-Parker
Maribeth Bersani
Beyer Subaru
Brandywine Living of Alexandria
Burke & Herbert Bank
Caring Considerations
Herbert & Gillian Carlisle
Cathi Coridan, Realtor: KW Metro Center
Clarke & Sampson
Donna Cramer & John Woods
Susan & Robert Dawson
Gwen Day-Fuller
Fiske Law Group, PLLC
Griswold Home Care
Independent You, Senior Services
Tom Irvin & Eleanor Wagoner
The Hon. Amy Jackson
Eileen & Mark Jinks
Brooksie Koopman & Mark Eaton
Claudia Kostel
Lifecare Affordability Plan
M&T Bank
Lynn & Mike McCaffree
McLaughlin Ryder Investments, Inc.
Beth Milito
Monument Title Company, Inc.
Old Dominion Home Care
Kitty Porterfield
Fran & Gant Redmon
Tom & Norma Roberts
Alice & Bill Rogalski
Shannon Mullins & Wright, LLP
Donna & Michael Shaw
Karen Skeens
Thrive Wealth Advisors
TorchLight Hire, LLC
The Hon. Marian Van Landingham
Virginia Hospital Center
Wade Grimes Friedman Meinken & Leischner PLLC
Carolyn & Roland Wilder
The Hon. Justin Wilson
Mary Pat Woodman
Photos from the 2020 event can be found on our Facebook page.