Here is your weekly SSA Connection – Hope you enjoy!
A coral reef love story
Over the course of hundreds of scuba dives, marine biologist Ayana Elizabeth Johnson fell in love — with a fish. In this ode to parrotfish, she shares five reasons why these creatures are simply amazing.
Click here.
Ina Garten's Fiesta Corn & Avocado Salad
Ina's Fiesta Corn and Avocado Salad is a quick side that goes with everything!
Click here.
Silver Sneakers Class to Motown Hits
Check out this fun at home exercise class while listening to Motown hits.
Click here.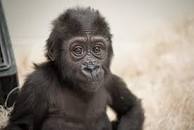 Meet Zahra, the National Zoo's newly named baby gorilla
Upcoming Alexandria Library and Other Events
Division of Aging and Adult Services "Town Hall," June 15, 4-6 pm, 4580 Mark Center Drive, lobby room 1305, Alexandria
The Division of Aging and Adult Services invites you to discuss matters that are important to you. Share your ideas and suggestions, June 15, 2023 from 4-6 p.m., 4850 Mark Center Drive, lobby room 1305. No RSVP is required. This meeting will be held in-person but you may join us virtually. The Zoom information is listed below:
https://zoom.us/j/93236192631
Meeting ID: 932 3619 2631
Passcode: 203770
Telephone: 301.715.8592
PASSAGE: A Juneteenth Journey presented by Pointillism Jazz Consort
Saturday, June 17 – 2:00pm – 3:00pm – Charles E. Beatley Jr. Central Library – Frank and Betty Wright Reading Garden
This free immersive dance performance will premiere in the Beatley Central Library Reading Garden. Recommended for ages 10+.
This community event welcomes the audience into the PASSAGE experience, starting with a short 10 min dance class to learn the PASSAGE Step Dance! Later in the show the audience joins in! PASSAGE takes viewers on a movement journey of history, personal stories, and resilience – celebrating final freedom for ALL enslaved people in the U.S. on Juneteenth 1865. Recommended for ages 10+.
Click here.
Line dancing – Tuesday, June 20: 11:00am – 12:00pm – Ellen Coolidge Burke Branch Library – Meeting Room
Learn basic line dance steps while you workout to Golden Oldies music. This is a great class for beginners. Bring a friend or come alone. Please wear comfortable shoes and clothing.
Click here.