Here is your weekly SSA Connection – Hope you enjoy!
Why is this black square famous?
In 1915, an exhibition of radical artworks opened in Russia. Many pieces pushed the boundaries of form and style, but one was particularly controversial: Kazimir Malevich's "Black Square." Criticized as simple and uninspired, Malevich's work is more complicated than it first appears— and may not be a painting of a black square at all.
Click here.
Barefoot Contessa's Chocolate Cake
Ina Garten is back with a recipe for a yummy chocolate cake.
Click here.
16-Minute Strength and Cardio
Check out this quick exercise video incorporating strength and cardio!
Click here.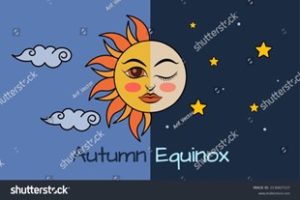 What is the autumnal equinox?
This year's autumnal equinox took place on Sept. 23, but what does that mean? Here's what you need to know.
Click here.
Upcoming Alexandria Library and Other Events
Alexandria Annual Art Festival – Saturday, September 30, 10 am – 5 pm, 300 John Carlyle Street, Alexandria – Free
For more information click here.
Take a guided virtual tour of Chamizal National Memorial in El Paso, Texas, part of the U.S. National Park Service in El Paso, Texas with NPS Ranger J.R. Lujan.
Click here.
Join us to learn about low vision resources.
Click here.
Burke Branch Friends Fall Book Sale – Thursday, October 12: 3:30 – 7:00pm; Friday, October 13 – 11 am to 4 pm, Saturday October 14 – 11 am to 4 pm and Sunday October 15 – 1-4 pm – Ellen Coolidge Burke Branch Library
Books, CDs, and DVDs for both children and adults all for sale at low prices. Join the Friends and/or shop the sale and help support the library!
Click here.
Senior Services of Alexandria's "Senior Living in Alexandria" event – Thursday, October 19 at 10 am – Westminster Presbyterian Church – 2701 Cameron Mills Road
This is the first speaker series event of the 2023-24 season and will be focused on Senior Safety and Awareness. Local experts will discuss a variety of topics geared to keeping you safe inside and outside of your home including: Fall prevention; Ideas on how to keep your home safe by removing tripping hazards and other minor fixes; Stroke prevention measures; and the Importance of knowing how various prescriptions interact. The event is free and open to the public.
Click here or call SSA at 703 836 4414 ext. 110.